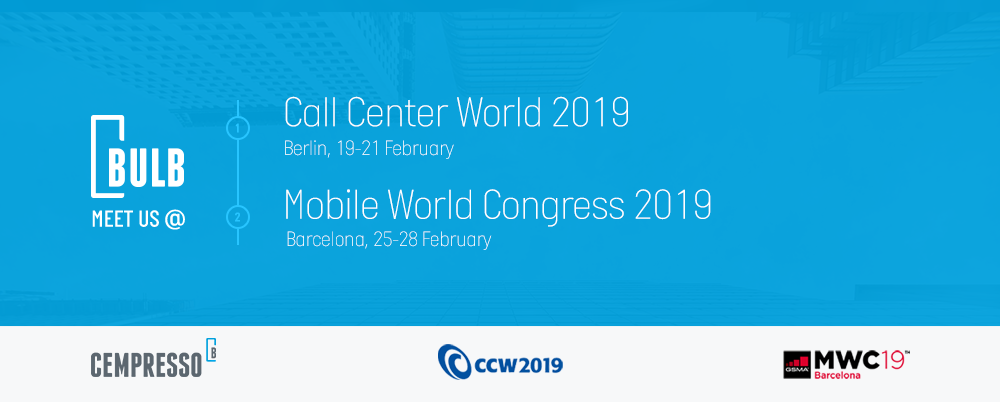 Bulb Technologies, a leader in service management and customer experience solutions, has announced that it will be attending two major industry events in Q1 2019. Bulb will have a booth at both Call Center World 2019 in Berlin and Mobile World Congress in Barcelona, where it will be showcasing CEMPRESSO, Bulb's platform to streamline assurance processes in the digital economy.
In the year since it was brought to market, CEMPRESSO has successfully delivered significant improvements in customer experience for key European Service Providers. Bulb's presence at these important events will be a great opportunity to see how we have delivered better customer engagement and process optimisation for major wireline and wireless CSPs.
Call Center World 2019
BERLIN, 19-21 FEB
Now in its 21st year, CCW is the meeting place for movers and shakers with ideas that are shaping customer dialogue. Across multiple industries, organisations are driven by ubiquitous and pervasive digital services with multiple customer touchpoints – a key issue facing many of the companies attending the show. This complex value chain results in service fulfilment and service assurance processes that are becoming increasingly complex to plan, design, execute and audit, a massive concern for Service Managers.
CEMPRESSO can resolve these concerns through the use of AI methodologies applied to process optimization, in conjunction with a simple and effective dashboard design system to deliver process insight to Managers and End Users.
Bulb CEO Vedran Rezar and fellow key executives will be on hand at booth 2E23 to show how CEMPRESSO can identify process bottlenecks and recommend improvement areas, with use cases including chat bots, HSI troubleshooting and E2E service activation.
Mobile World Congress 2019
BARCELONA, 25-28 FEB
5G will undoubtedly be the main topic of conversations at the world's largest exhibition for the mobile industry. 5G has the power to completely change the customer experience forever and offers the promise to create a whole new breed of revenue generation opportunities while changing dramatically the customer experience. With the advent of 5G CSPs will be faced with the need for increased organisational agility, the issue of a shifting regulatory environment and intensified competitive pressure. A much more holistic approach is therefore needed to improve the customer experience and quickly address and resolve customer complaints; problems CEMPRESSO was designed to address.
Bulb CTO Neven Stipcevic and fellow key executives will be in Hall 7 at stand 7K12 to offer CEMPRESSO demos and discuss how it is a key enabler for wireline and wireless CSPs transitioning to 5G, regardless of their underlying business model.

Find out more about CEMPRESSO here. 
Related posts