FAST AND EASY ACCESS TO INFORMATION
Availability - whenever and wherever customer needs it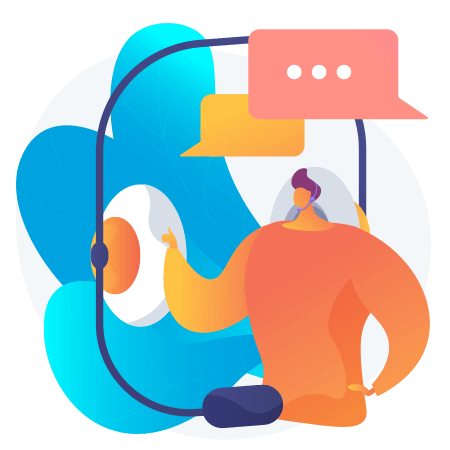 HELP CUSTOMERS AND EMPLOYEES USE THEIR TIME THE BEST POSSIBLE WAY
Cempresso Chatbot enables fast and easy access to various information for customers and employees - when they need it and through different channels.
Both customers and employees want to use their time most efficiently. Customers desire fast and efficient ways to either help themselves or to get much-needed information.
Employees, on the other hand, want to put their competences on more complex issues and leave the most frequent, less challenging issues to someone else.
Chatbots answer both demands:
being available 24/7, they are the most convenient communication form for customers
easy implementation on different apps adapts to customers preferences (SMS, WhatsApp, Viber, Facebook, web, etc.)
focus on intent, and faster resolution assures call deflection from customer service to chatbots
A COMPREHENSIVE SOLUTION
Which benefits will it bring?
Improve service and productivity
Deliver instant answers in conversations to resolve customer and employee issues quickly and effectively 24/7 through omnichannel chatbots.
Reduce agent workload
Deflect tickets, reduce call volumes, and automate common requests to offload customer service agents.
Scale business efficiency
Reduce costs by automating common questions and handling increased volumes of routine tasks, at the same time, free up agent time to focus on more complex cases.
Develop and deploy quickly
Visually build conversations to rapidly deliver change to the enterprise.
Reduce waiting time
Engage customers through a chatbot and reduce waiting time to get the needed information.
Increase customer experience level
Be available for customers 24/7 and through their preferable apps, reduce waiting time, and assure faster resolution to increase customer satisfaction.
Solution designed to solve different challenges and drive chat from conversation to resolution
Cempresso Chatbot is powered by natural language processing (NLP) that empowers an organization to solve most common issues fast, increase customer satisfaction, deflect calls from customer service and keep agents free to focus on most complicated issues.
Cempresso Chatbot enables companies to:
efficiently build custom chatbot applications by using drag-and-drop modeler and share the same platform over multiple channels

leverage common Cempresso capabilities and seamlessly incorporate machine-to-machine interactions in chatbot flows (i.e. IT systems and connected devices)

have consistent customer interaction experience that involves all channels (CSR console, self-care app, chatbot, etc.)