Empowering Telecoms
Cutting-Edge Wi-Fi Service Assurance Ensures Unparalleled Customer Experience and Business Success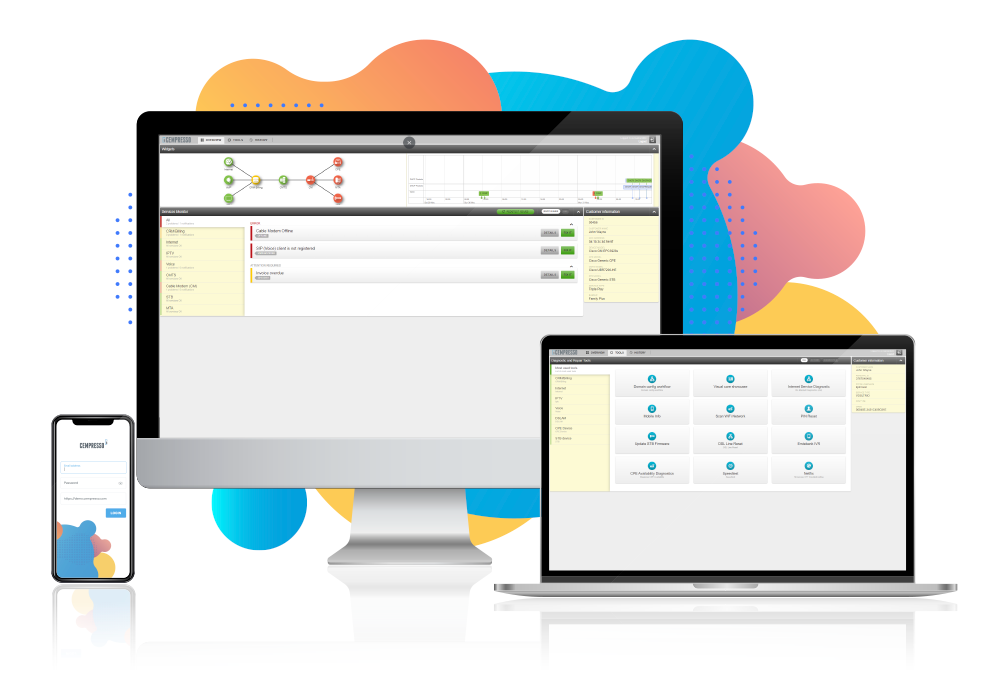 Elevating Telco Standards with Wi-Fi Service Assurance Mastery
The Wi-Fi as means of communication is ubiquitous that is why Wi-Fi service assurance is a MUST. Non-tech users often confuse Internet and Wi-Fi terms due to their frequent use for connectivity. With rising customer expectations for premium telco service, Wi-Fi service assurance becomes crucial. Our solution provides telcos tools to enhance customer experience, collect network planning data, and share Wi-Fi expertise organization-wide. Utilizing available data and advanced analytics, we transform insights into actionable solutions, benefiting customers and agents alike. Even novice agents can contribute, delighting customers in the process.
The solution relies on standards and protocols widely accepted in telco industry like TR-069, TR-181, SNMP and IPDR.
We, Bulb, are proud that our solutions related to technology and technical side of telco business, deliver business value, and fulfil business goals. Building the solution around technical data is only our starting point.
Our solution is built with focus on following business goals:
Improve reactive Customer Care
Our Wi-Fi service assurance equips telcos with insights, next-best-actions, and intuitive tools, ensuring swift problem resolution. The solution features customizable dashboards for customer support agents and experts, streamlining troubleshooting for efficient issue resolution. Agents are empowered through guided flows, allowing them to assist customers even with limited technical knowledge. The expert's console enables a deep dive into Wi-Fi characteristics, utilizing historical and real-time data. Customer feedback during sessions informs QoE analysis, correlating technical network performance with actual customer experience.
Improve proactive Customer Care
Continuous collection of Wi-Fi quality and coverage data allows the system to learn household-specific patterns and technical parameters. Any deviations from these patterns trigger proactive actions in near real-time, such as warning external systems, creating tickets, or assigning tasks to customer care agents. The information provided to agents or experts includes details on the type of problem and suggested solutions. Additionally, the system can not only notify external systems but also orchestrate actions through an integrated workflow engine involving different telco groups. This proactive approach aids in identifying and resolving customer issues before they escalate into complaints.
Home Network assessment
Our solution provides telcos with vital information about customers' home networks and devices, enabling both reactive and proactive support. Continuous data collection assesses network usage, including the number of clients, connection standards, bandwidth usage, retransmissions, noise levels, and neighboring networks. This comprehensive data allows identification of issues and potential improvements, such as changing bands or upgrading devices. The solution also identifies customers with resource needs and those using outdated devices, empowering telcos to enhance the Wi-Fi experience based on precise insights.
Reduce Churn
Our solution tackles two of the three main reasons for customer churn in the telco industry:
Unsatisfactory Customer Care: We provide organizations with streamlined tools for customer support and troubleshooting, empowering agents to offer effective assistance and instill a sense of confidence among customers.
Poor Network Quality: With over 52% of Internet traffic flowing through Wi-Fi networks, controlling the Wi-Fi experience is crucial for managing overall network usage. Our solution aids telcos in enhancing the network experience by collecting and analyzing data on Wi-Fi parameters, suggesting improvements, and measuring the impact on customer retention.
By addressing these critical aspects, our solution significantly contributes to reducing customer churn in the telco industry.
Sell more products
Our Wi-Fi service assurance enhances product sales through three key features:
Bandwidth Optimization: The solution identifies individual customer traffic consumption and aligns it with contracted bandwidth, enabling agents to proactively suggest upsells or contract upgrades.
Device Upgrade: It identifies outdated devices affecting Wi-Fi performance and recommends replacements, assisting agents in proposing suitable devices to customers.
Coverage Improvement: By analyzing the customer's apartment layout, the solution identifies areas requiring better coverage. Agents can then recommend additional devices for improved signal strength.
Recorded events of cross- or up-sales are correlated with sales data, facilitating comprehensive churn analysis and driving strategic sales initiatives.
Network engineering
Our solution streamlines expert tasks by:
Comprehensive Data Collection: The system collects and analyzes a diverse range of information tailored for expert use, supporting various aspects of their daily tasks.
Customizable Expert Dashboard: Results of automatic analysis are presented in customizable dashboards, providing experts with a user-friendly interface for efficient decision-making.
Custom Reporting for Telcos: Telcos can utilize custom reporting to find answers to specific questions, such as CPE performance benchmarking, traffic monitoring, and outage alarming.
Workflow Engine Automation: A background workflow engine allows the setup of business logic, automating responses to situations like outages and anomalies. This not only aids in network design but also automates improvement processes, such as ordering additional equipment in response to increased traffic levels.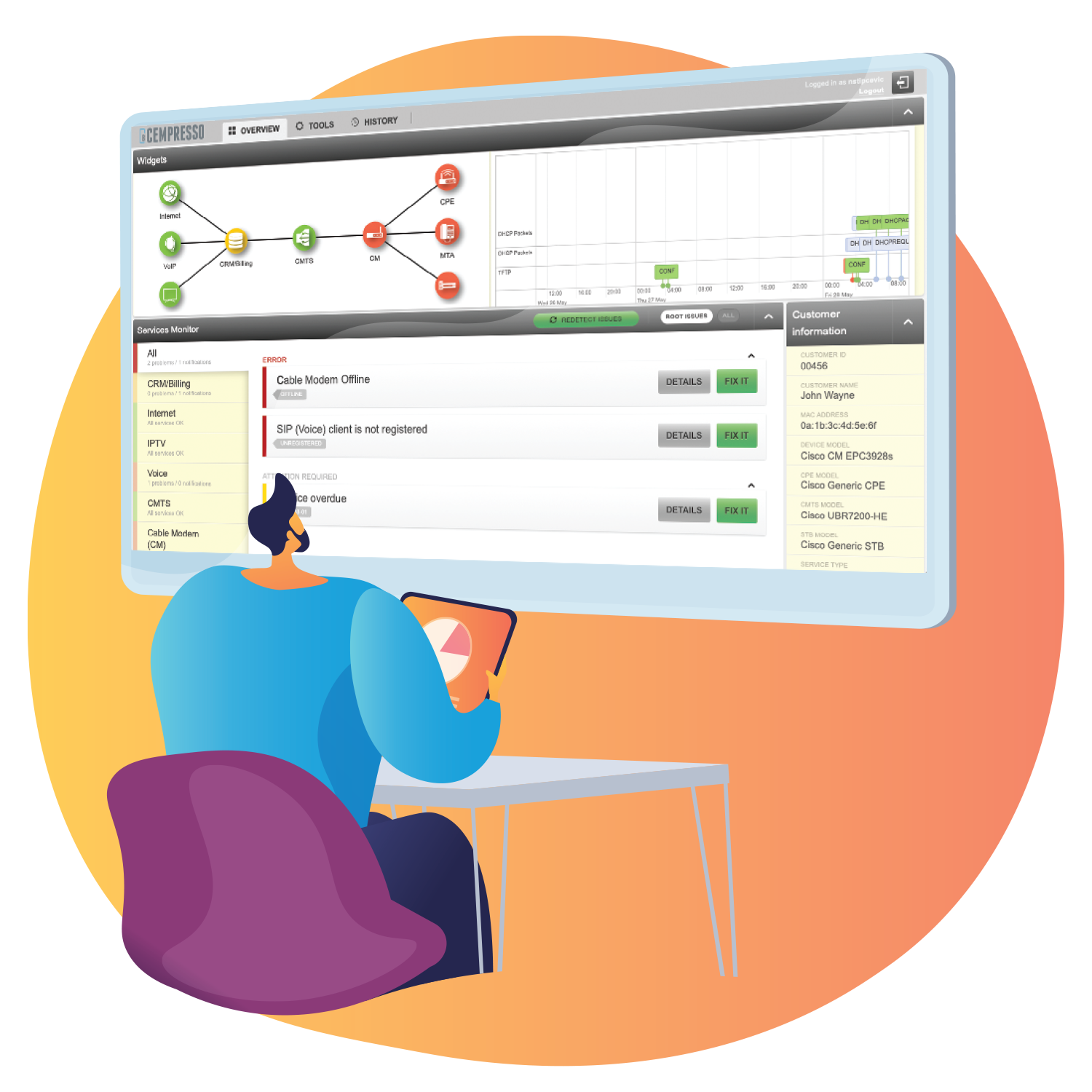 Dive into the Dynamic Use Cases of Bulb's Wi-Fi Service Assurance for Proactive, Self-Service, and Reactive Excellence!
In the following text there is a description of some of the use cases covered by the Bulb's Wi-Fi Service assurance solution.
Most of the use cases cover proactive, self-service, and reactive mode. The processing in the background happens periodically and tags can be removed if values change.
Furthermore, the use cases use guided flows to guide customers, agents, or experts in solving the Wi-Fi issues. One of the points of flow is to collect the feedback information from customers. This information is needed to determine QoE and to help solution to learn what needs to be addressed and what is not causing bad experiences to customers.
Please note that described use cases will be adapted to the actual situation in OSS/BSS and CPE capabilities a telco.
Poor coverage due to wrong Wi-Fi CPE position:
Wi-Fi Service Assurance optimizes user experience by detecting suboptimal CPE placement. It recommends repositioning for improved signal strength and bandwidth. Through background measurements and self-care tools, users can confirm findings and suggest new CPE locations. Visual care, an optional video support solution, aids customer service agents in assessing layouts. Feedback from users guides proactive, self, or reactive care, offering mesh solutions if repositioning isn't feasible or effective.
Limited Throughput from Separate SSIDs or Single-Band Usage:
Wi-Fi Service Assurance detects if customers have separate SSIDs for 2.4 GHz and 5 GHz, impacting performance and disabling band steering. The solution encourages users to merge SSIDs for an enhanced experience. Collecting Wi-Fi settings, it activates or merges bands automatically or with human assistance based on business rules. Optionally triggered when Wi-Fi performance is compromised, this use case spans self-care, proactive, and reactive care, capturing and storing customer feedback in all modes.
Too many clients per CPE:
Wi-Fi Service Assurance identifies network congestion leading to poor customer experiences. It does so by setting thresholds for the number of allowed Wi-Fi clients or measuring Wi-Fi utilization. Proactively, it triggers actions like creating tickets or suggesting upgrades. Advanced adjustments based on CRM data or requested bandwidth are also available. In reactive and self-service modes, the solution guides agents or customers. All three modes support collecting customer feedback to refine automatic issue detection and enhance Quality of Experience (QoE).
Detect interference from external sources:
Wi-Fi Service Assurance identifies external interferences through two methods: detecting neighboring Wi-Fi networks and collecting noise information periodically. Regardless of proactive or reactive modes, the solution guides agents or customers with options like relocating the CPE, adding an access point, or changing channels. CRM data modifies offered solutions. All three modes support collecting customer feedback, refining automatic issue detection, and enhancing Quality of Experience (QoE).
Wrong configured CPE:
The Wi-Fi Service assurance solution detects if the Wi-Fi CPE is not configured properly. It can detect following misconfigurations:
Wi-Fi switched off
5GHz not configured
Auto channel selection switched off
Outdated Wi-Fi standards configured (e.g., 802.11b)
Depending on CPE type and learned flaws of the CPEs other misconfigurations could be added.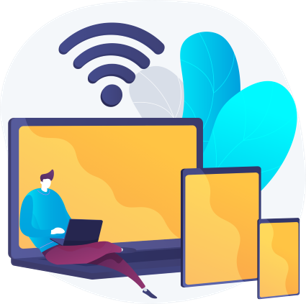 Detect bad Wi-Fi CPE and/or faulty firmware:
Wi-Fi Service Assurance identifies issues caused by a malfunctioning CPE or faulty firmware through parameters such as CPU usage, free memory, temperature, hardware and software versions, Wi-Fi utilization, client devices, neighboring networks, and active bands/channels. In proactive mode, the solution automatically generates a ticket for customer support or a field technician based on telco business rules.
Monitor Throughput of WAN traffic:
The WiFi analyzer shall be able to monitor and report the overall WAN traffic in the network. The solution will collect the data from WAN port of CPEs. The information will be available in proactive mode, where the reports could be sent to experts to help them plan requirements or when a customer contacts customer care.
Detect legacy clients:
Wi-Fi Service Assurance identifies legacy clients in the network by collecting long-term client data. Detecting these devices is crucial for overall network experience. The solution gathers information on the client's standard, bandwidth, and signal strength. If a legacy client is detected, a ticket is created for a sales agent, guiding them to explain the impact and offer suitable replacements. This feature is available in both reactive and self-service modes, informing customers and agents about legacy devices and suggesting new products. All three modes collect customer feedback to refine automatic issue detection and enhance Quality of Experience (QoE).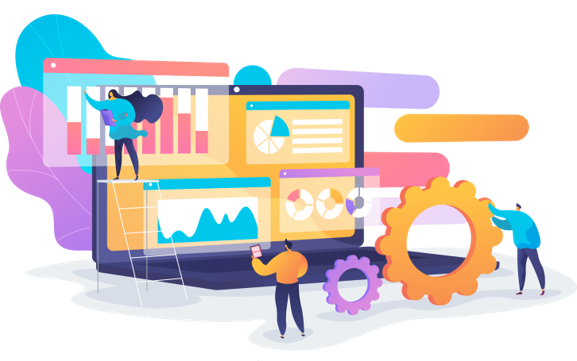 Internet Speed/Bandwidth Variance Compared to Wi-Fi Speed:
Wi-Fi Service Assurance compares contracted and actual Internet speeds with device Wi-Fi standards. If slow client devices are detected, proactive actions are initiated, notifying customer support agents or creating sales tickets for faster Internet offers. CRM data and activity history influence offered solutions. All three modes (self-care, proactive, and reactive care) support collecting and storing customer feedback, refining automatic issue detection, and enhancing Quality of Experience (QoE).
Compare quality of different CPE types:
Wi-Fi Service Assurance consistently gathers data from CPEs, allowing telcos to assess and compare overall Wi-Fi performance, including band and client steering, and radio frequency performance. The solution facilitates comparison between CPE types, different firmware versions, or against predefined test criteria agreed upon with the CPE vendor. Generated measurement reports serve as documentation for bug reports or improvement requests to the CPE vendor.
Optimize Your WiFi Experience Now!
Try Bulb's Solution for Unparalleled Performance. Elevate Your Connectivity – Click to Optimize!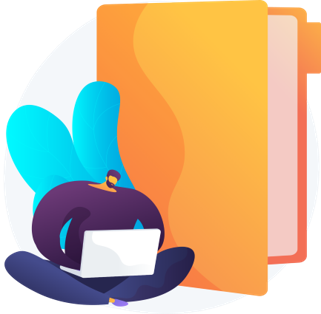 01
Automating Customer Care Troubleshooting and Diagnostics
The Cempresso Customer Care software platform automates customer support and enhances knowledge management in the evolving business landscape.
Through AI-driven suggestions and the management of simple, repetitive tasks, the Cempresso suite simplifies the way companies deliver unforgettable experiences to clients.
Telecom Industry focused?
02
Telco Troubleshooting Automation
Over the past 15 years, Bulb Technologies has earned a reputation as a leader in broadband service management.
The company has helped communications service providers - fixed, cable, and mobile - deliver a superior customer experience while dramatically reducing operating costs.
Our Telco portfolio offers a new approach to automated end-to-end diagnostics, guided troubleshooting and analytics.
Telecom Industry Focused?
03
The Ultimate Guide to Launching a Process Automation Project
As companies search for ways to make businesses more efficient, productive, and effective, automation has risen to the top of the must-have investment list. According to Gartner, between the years 2020 and 2021, the global RPA sector saw a growth of around 19.5%. Though that might not seem like a huge number, it was an increase of 7.6% in the previous year.
Automation is changing the way countless businesses operate. The question is, how do you get started with a new Process Automation Strategy?
04
Why is Customer Self-Service Becoming So Important?
In a digital environment, self-service offerings allow customers to bypass interacting with an agent and get the crucial, ultra-fast response time they desire. Today's customers can navigate digital environments and access various features on their own.
At Bulb Tech, we can help you develop the ultimate customer service solution – from self-service solutions to automation. Contact us today to learn more about what we can do for you.
05
Embracing Hyper Automation: The New Age of Intelligent Automation
Identified by Gartner as the number one strategic technology trend for 2020, hyper automation is a concept in the early stages of rapid industrial growth. Where automation leverages technology to automate human-focused tasks, hyper automation supports the rapid identification and automation of various processes via RPA (robotic process automation) and low-code platforms.
As digital transformation plans accelerate following COVID-19, organizations will demand more business process automation and IT innovation.