What: Broadband World Forum 2016
Where: ExCeL Convention Centre, Royal Victoria Dock, London – Booth A72
When: October 18 – 20, 2016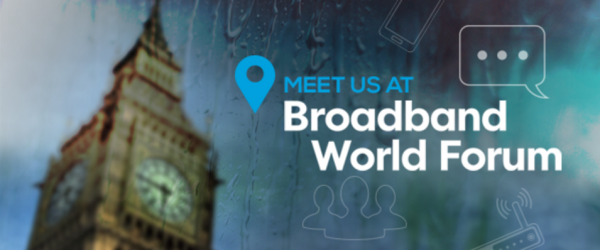 Bulb Technologies will showcase its solutions at Broadband World Forum 2016. The focus will be on CEMPRESSO, Bulb's new-concept solution for customer support automation and knowledge management. CEMPRESSO provides automated diagnostics and step-by-step guided troubleshooting of all telecom services. It is used by all types of CSPs, irrespective of the access infrastructure – xDSL, cable, FTTx and mobile. Read more on CEMPRESSO at www.bulbtech.com/cempresso.
Other solutions Bulb will present at BBWF2016 include:
DACS – DHCP/DOCSIS Auto Configuration System: A centralized CPE device provisioning platform,
NEPS – Network Element Provisioning System System: A unified DSLAM provisioning API for multivendor environment.
If you are interested in a live demo or would like to learn more about Bulb solutions during the Forum in London, send us an email to cempresso@bulbtech.com. Or simply visit us at booth A72.
Broadband World Forum is a globally recognized meeting place of the broadband industry. Established as one of the world's leading broadband events, BBWF2016 will gather senior executives of mobile, fixed and cable operators to discuss the future of the telecommunication industry.
About Bulb Technologies
Bulb Technologies provides solutions for telecom service management, customer support process automation and knowledge management. Bulb enables all types of service providers ‒ fixed, cable and mobile ‒ to deliver superior customer experience and significantly reduce customer support related costs. Bulb's solutions support any protocol, device or telecom network element, and meet complex custom delivery requirements in the multivendor network infrastructure. Bulb was founded in 2006. Its customers include companies of Deutsche Telekom, Telekom Austria and United Groups. Learn more at www.bulbtech.com
Related posts