SOLVE CHALLENGES THROUGH EVERY CUSTOMER JOURNEY
Extend your capacity and make it easier for customers and employees to get what they need, whenever they need it.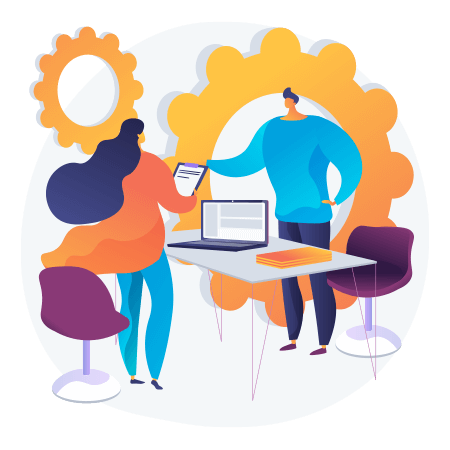 Our Virtual Agent empowers end-customer or employees through enhanced self-service over NLP based chatbot, web, mobile app, IVR, etc.
The most valuable asset anyone has is time.
Both customers and employees expect an immediate solution for their requests at any given time. These burden live agents with repetitive and routine requests or rerouting issues to other departments. Consequently, they have little time to focus on more complex or high-value work.
Also, companies have to rely on self-service online support material like knowledge bases, but that can be difficult for customers to find and navigate. As a result, customers are forced to request assistance from a live agent in the end.
Bulb's Virtual agent is a smart automation solution used to quickly resolve repetitive, high volume, and simple requests. At the same time, our Virtual Agent deflects calls from live agents to virtual ones and improves customer and employee satisfaction.
Available 24/7
Virtual agents are accessible to customers at any given time, making them ideal for solving most common customers' issues and requests. Customers can forget "working hours" since Virtual agents are always there for them.
Omnichannel accessibility
Allow your customers to use any channel they want. Cempresso delivers consistent and intuitive UIs across multiple channels: web, mobile apps, SMS, social networks messengers, chatbot, etc.
Virtual Agent Modeler
Cempresso's flexible design studio and workflow modeler enables fast creation and deployment of process logic in an easy-to-use drag-and-drop interface without scripting or advanced skills.
Seamless handover between channels
Relieve agents of routine questions and issues by providing the correct answer to users at the right time over the preferred channel. For more complicated requests and issues, use a seamless transition to a live customer service agent to solve escalation.
Which benefits will Virtual Agent bring?
Improve service and productivity
Deliver instant answers in conversations to resolve customer and employee issues quickly and effectively. The Virtual Agent is available 24/7, any day of the week, through automated support.
Reduce agent workload
Automate and deflect routine calls and chats that don't require complex critical thinking or judgment (IT incidents, HR tasks, customer "know-how" inquiries, etc.).
Scale business efficiency
Reduce costs by automating common questions and handling increased volumes of routine tasks. This allows companies to free up agent time to focus on more complex cases.
Develop and deploy quickly
Visually build conversations and use pre-built templates for IT, HR, and customer service topics to deliver change to the enterprise.
Virtual Agent Solution designed to solve challenges through every customer journey
Virtual Agent is an enterprise chatbot solution powered by natural language processing (NLP) that empowers an organization to solve common issues, increase customer satisfaction, and keep agents focused on more complex issues.
Furthermore, Virtual Agent makes it faster and easier for anyone to solve usual IT, HR, and customer service requests by leading chat from conversation to resolution.
To assure customer engagement, Virtual Agent acts like a regular live agent. Customers can use simple, everyday language to interact with the chatbot and get precisely what they need, whenever they need it.
If a customer does not get the answer to his/her request, the Virtual Agent reroutes the interaction to a live agent. This way, we preserve the customer experience level at all times.