AN EFFICIENT ALTERNATIVE TO CUSTOMER SERVICE
Empower customers to self-troubleshoot and resolve technical issues with Cempresso self-care to improve their customer experience.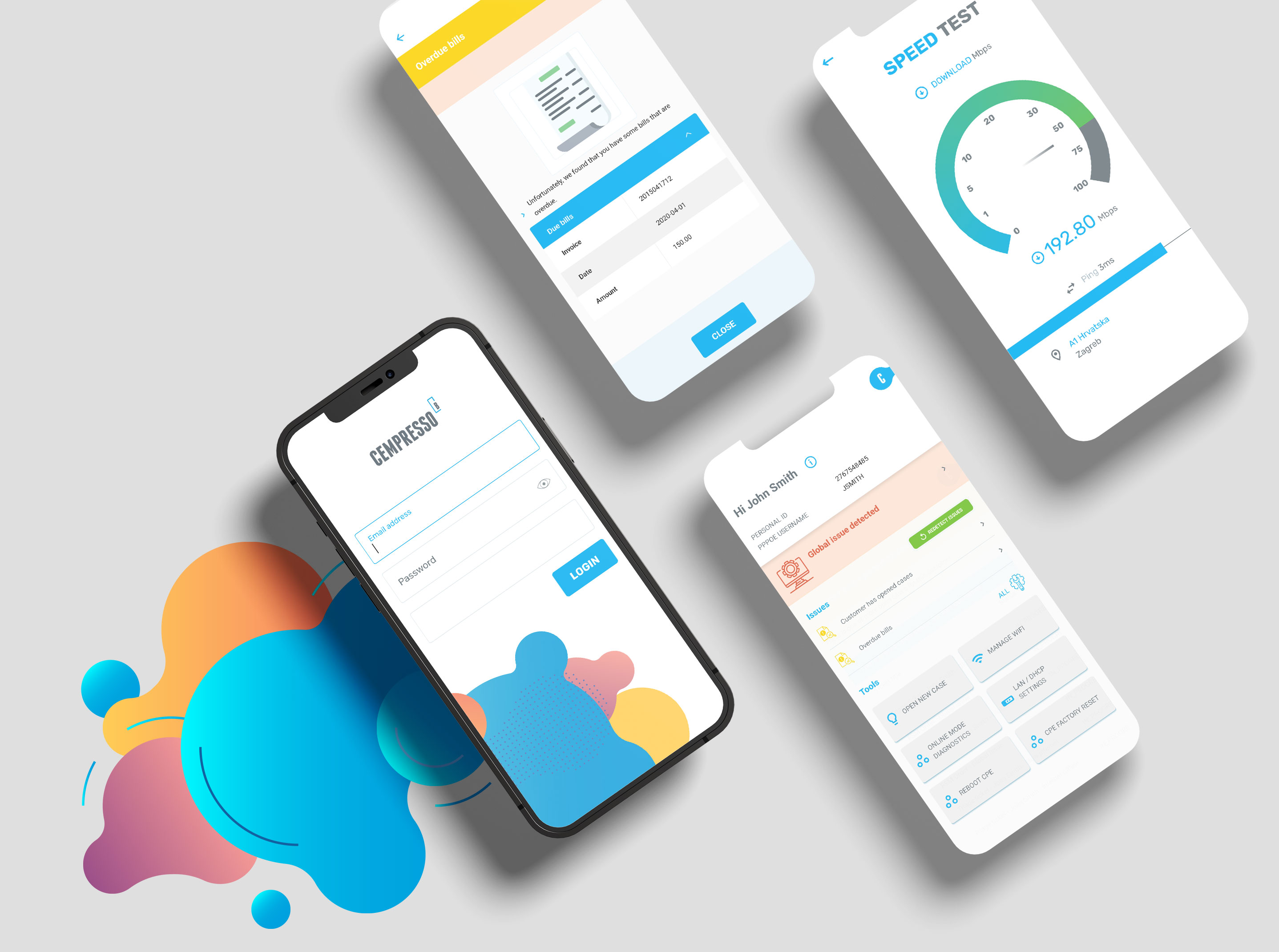 Customers do not want to call Customer service any more than Businesses do. So give them an alternative: self-troubleshooting and resolution accessible anytime, anywhere.
Engage your customers with a self-service solution on any channel they will be happy to use.
If you keep the solution simple and intuitive and take them through clear steps from diagnosis to a successful resolution, they are sure to keep using it.
By providing your customers with enhanced self-service tools and diverting calls away from live agents in customer service, companies gain even more benefits. For starters, live agents can focus on more complex issues, increasing the resolution rate for complicated customer problems that typically get lost in the shuffle. At the same time, operating costs are reduced, customers are happier, and the customer experience skyrockets.
Complex processes adapted for average users but with maximum efficiency.
Troubleshooting can be complicated and difficult to understand.
However, we have developed the Cempresso platform to demystify the complexity of troubleshooting.
Cempresso uses simplified workflow management tailored to an average customer to take them from "I have a problem" to "All my services are working fine". This makes Cempresso a one-stop solution for all customer needs, including automated troubleshooting of common home network issues such as password resets, step-by-step instructions for connecting devices, speed tests, and simple diagnostics for field service applications.
Finally, the ability to resolve any issue anywhere (via the web, Facebook, Viber, SMS, chatbot, etc.) and anytime will certainly improve your customer experience.
Remember, customers, do not want to wait in a queue to reach an agent. When you empower them to solve simple problems through self-service, calling customer service becomes the last resort.
Never again worrying about loosing troubleshoot data due to multiple tools
Cempresso Platform enables omnichannel implementation with the same root system behind it.
Imagine the customer starts and tries to solve a problem by himself and fails. As a result, the ticket is forwarded to customer service.
It's as simple as that. All the data is available in the session so that the customer service representative can follow up.
Choose Cempresso and forget:
losing time and effort to maintain multiple tools on various touchpoints
asking the customer "Can you please repeat what issue you are experiencing?"
hearing "I have been waiting for an agent for more than 15 minutes!!"
having stressed-out agents because of high call volumes that can be solved in "two clicks"
Digital Self-care benefits:
Responsive design fitting any screen size – desktop, mobile, tablets

Easy customization – customize look and feel to align to brand

Design once through low code web based design studio and deploy to any channel

Comprehensive, consistent and intuitive UIs across multiple channels: web, mobile apps, SMS, social networks messengers, chat-bot, etc.
Empower customers with issue resolution and diagnostic control, reducing the burden on customer care and network operations

Empower field service technicians with applications to validate repair while on-site

Fully integrated in end-to-end process workflow, enabling seamless interaction with multiple IT/network infrastructure elements